Ofloxacin Suspension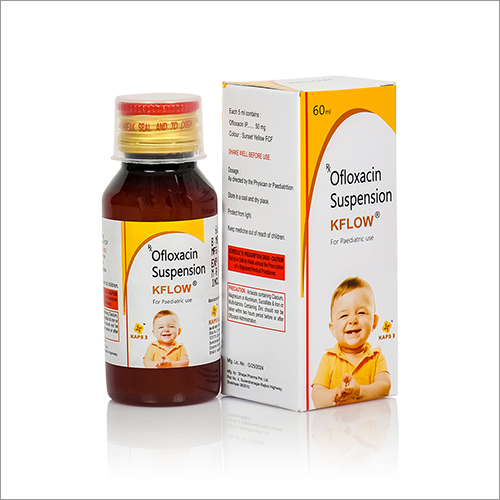 Ofloxacin Suspension
Product Description
Ofloxacin Suspension is a medication used to treat bacterial infections such as respiratory tract infections, urinary tract infections, and skin and soft tissue infections. It belongs to a class of antibiotics called fluoroquinolones, which work by inhibiting the growth of bacteria.
The oral suspension form of Ofloxacin is a liquid that is typically taken orally by mouth. The dosage and duration of treatment may vary depending on the type and severity of the infection being treated, as well as the age and overall health of the patient.
Ofloxacin Suspension should be taken on an empty stomach at least 1 hour before or 2 hours after a meal. It is important to finish the entire course of treatment prescribed by a doctor, even if symptoms improve before the medication is finished. Failure to complete the course of treatment may lead to the development of antibiotic resistance or a recurrence of the infection.
Common side effects of Ofloxacin may include diarrhea, nausea, abdominal pain, and vomiting. It is important to inform a doctor of any other medications being taken before starting treatment with Ofloxacin, as some medications may interact with this antibiotic. Additionally, individuals with a history of allergies to fluoroquinolone antibiotics should not use this medication without consulting with their doctor first.
FAQ
1. What is Ofloxacin Suspension used for?
Answer: Ofloxacin Suspension is an antibiotic used to treat certain infections caused by bacteria, such as respiratory tract infections, urinary tract infections, skin infections, and ear infections.
2. How should Ofloxacin Suspension be taken?
Answer: Ofloxacin Suspension should be taken as directed by your doctor. It is usually taken with food or milk to reduce stomach upset. Shake the suspension well before each use.
3. What should I do if I miss a dose of Ofloxacin Suspension?
Answer: If you miss a dose, take it as soon as you remember. If it is close to your next dose, skip the missed dose and continue with your regular schedule. Do not take a double dose to make up for the missed one.
4. What are the possible side effects of Ofloxacin Suspension?
Answer: Common side effects may include nausea, vomiting, diarrhea, stomach pain, headache, dizziness, and skin rash. If any of these effects persist or worsen, contact your doctor. Serious side effects may include seizure, easy bruising or bleeding, and dark urine. Contact your doctor immediately if you experience any of these symptoms.